A Message from the MOE Web Team Mentor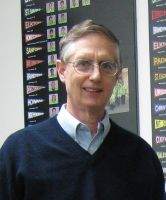 As the Lead MOE Web Team Mentor, I am extremely proud of what our dedicated students have accomplished!
The MOE website is designed to inform and entertain the visitor, instruct other teams, and give the MOE Team the important infomation it needs throughout the year. Our students have made the site accessible on mobile devices.
This year's students have increased the integration of our website, Facebook, Twitter and YouTube offerings, and added Instagram. These media have content links and feeds, and share the MOE look and feel to the greatest extent the formats permit.
Importantly, no site management program such as FrontPage® or Dreamweaver® has been used for our website. It is primarily hand coded using text editors such as the Crimson Editor and Notepad.
New code has been written in HTML5 using our own cascading style sheets, an upgrade from our Transitional XHTML. Available script has been adapted for some areas (consistent with all proper licenses or permissions), such as menus (Milonic and jQuery), photo displays (Galleria), and image magnifier (Image Power Zoomer). The Web Team itself operates in the cloud using Google Drive for our own communications and interactions, and as the platform for our calendar and on-line forms such as the Student Application.
STUDENT PRIVACY is extremely important for our team. For the protection of our students we do not include students' names with their photos on this site. The only students who have their names and e-mail addresses posted here are those to whom public inquiries should be sent. This precludes our inclusion of such human interest items as student profiles, but we feel that the precautions are quite worthwhile.
If you haven't yet visited our Web Team page, please take the opportunity to meet this year's talented crew!
It has been a pleasure to work with bright, enthusiastic MOE Web Team students for twelve years, and they have helped keep me feeling young!
Sincerely,
John Wilkens
MOE Web Team Mentor